There are many people who have managed to find success in sales without ever reaching their true potential because they become content with their success. Many sales professionals often lose sight of the fact that there is always room to improve and do more to advance their careers and gain even more success. Those who take this extra step in sales and push themselves to the limit are known as the top 1% of sales professionals. They have found smart ways to succeed in sales by creatively thinking outside of the box and working hard.
These top performers in the sales industry aren't just the people bringing in the most revenue for their companies. They are the ones setting the standards for everybody else by setting the trends in their industry. These top sales professionals are always hungry for more opportunities to succeed. How do these top 1% of sales professionals reach the top of their industry and continue to ride a wave of success?
In order to reach the top 1% of sales professionals, you must embrace the idea of being a trendsetter. Success is a lifestyle, not a destination and if you follow the footsteps of others you can reach a certain level of success. However, in this competitive business world, it takes more than that to reach the highest level. With this in mind, following the safe path will not always take you to the top of your game. The safest choice is not always the best choice if you want to be in the top 1% of sales professionals. Trends in business are always changing and the ones who are willing to innovate and adapt to the ever-changing landscape of business will separate themselves from the pack. How can your business set trends instead of following them? Here are some smart ways to succeed in sales in today's complex and competitive world.
1. Make Time For Creativity
It's hard to be creative when you don't make enough time for yourself to let the good ideas flow. Be patient with the process and learn to play around with new ways of doing things. Don't judge yourself too hard when you are brainstorming. Trendsetters in business are willing to think outside of the box and patient enough to let new ideas grow. The right work ethic and the willingness to explore new ways to tackle a problem will set you apart from the rest.
Related Article: Sell More Creatively and Unlock Your "Inner Edison"
Related Article: Tapping The Right Brain: 5 Steps To Improving Creativity In Sales
2. Study the Current Trends
You need to know the rules in order to break them. Learn what trends dominate your market so you can think of new ideas to change the way things are done. Read about the latest industry tactics. Learn from the success and failures of your competitors. Attend webinars and conventions of leaders in your industry and learn as much as you can from them. Trendsetters are always 2 steps ahead of the competition because they stay informed and can anticipate moves in the game.
Related Article: Inside The Mind of a Top Sales Performer

3. Learn How Your Customers Think
Listen to your customer base and understand what works and what doesn't. Knowing these simple things will help you generate new ideas. Figure out what they need and capitalize on it. Understand what customers are saying and have an honest dialogue with what they have to say about your business. Learning from your customers will help you to innovate and think clearly about what really needs to get done to improve your business.
Related Article: How To Brainstorm With A Group
4. Establish Your Brand
Separate yourself from your competitors by learning how to brand your business effectively and often. Incorporate your brand into every facet of your business so that customers learn to recognize you. Learn your strengths and emphasize them. Establish a good reputation with your customers by developing valuable content. Valuable content is not an advertisement. Valuable content helps to solve a problem, answer a question or address an issue for the reader.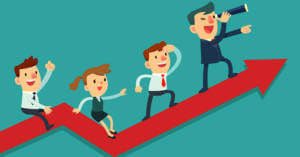 5. Build A Great Team
Strive to build a strong foundation for your business by hiring innovative people who will go to bat when you need them to. Treat your team with respect and motivate them to keep up with new ideas in your industry. Inspire your team by holding brainstorming sessions. Let your team bounce ideas off each other and think of ways to help foster creativity by communicating clearly with them. You're only as strong as your weakest link so it's important that everyone is on the same page and running like clockwork.
Related Article: 7 Secrets of a Happy & Successful Sales Team
Succeeding in sales today requires that you think outside of the box, work like hell and call on a large pool of ideas to draw inspiration from. You need to be creative and you need to suit up and show up every day. The top 1% of professionals forge their own path by exploring new ways to innovate and expand. Learn to stay motivated and hungry by executing your goals in a timely and professional manner.
If you want to learn more about how to forge your own path to success in sales and sell like the top 1% then visit The Sales Coaching Institute website. We practice smart selling and teach you the latest trends and concepts to open your mind to a new world of possibilities.