There are many trends in the sales industry that are taking off. One of these trends is outsourcing specific business functions, particularly sales. Outsourcing is a practice used by companies to reduce costs by transferring portions of work to outside suppliers as opposed to completing it internally. While outsourcing your sales department can present some challenges, it can be an efficient way for many companies to drive down costs while increasing revenue and output if done correctly.
For most businesses, the number one factor that zaps business revenue is the sales department. It can be a tough pill to swallow for most companies because they rely so heavily on sales people to sell products, services, and to help customers.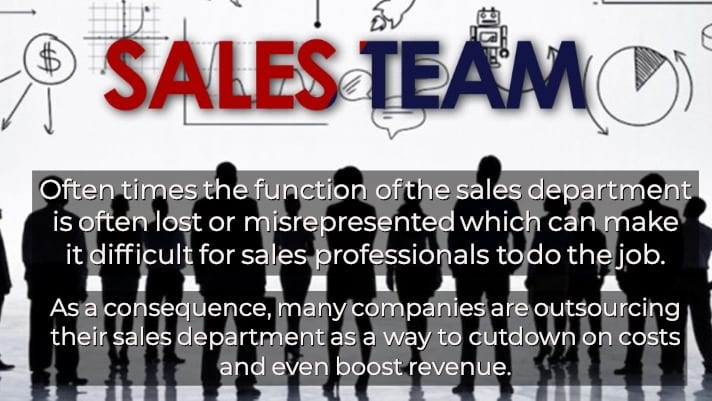 Often times the function of the sales department is often lost or misrepresented which can make it difficult for sales professionals to do the job. As a consequence, many companies are outsourcing their sales department as a way to cut down on costs and even boost revenue. Sales as a Service or SaaS isn't a new idea, but many companies have shied away from it in previous years only to flounder and almost close the business.
In-House Solutions May Not Work
While some companies find that in-house sales teams are efficient enough, it's tough to go through all that work only to realize that your efforts have resulted in a downward spiral. Whether you choose to hire a dedicated sales team or choose a few current employees to take on the role, you're reducing your chances of success, spending more money, and may not get the results you desire.
How Outsourcing Works
With sales outsourcing or SaaS, you can target your efforts more precisely. You can attract higher sales volumes for services/products using third-party services. It also allows you to work with a sales expert who learns everything about your company and products. Sales experts from outsourced teams have a variety of experience working with diverse sales teams. They can be a wonderful resource for your sales team to learn effective sales skills that can close deals and improve efficiency.
Additionally, your business can save time and money with regards to sales training and sales performance because you will always have professionals on hand to help customers with their needs while providing much needed coaching to newer sales professionals.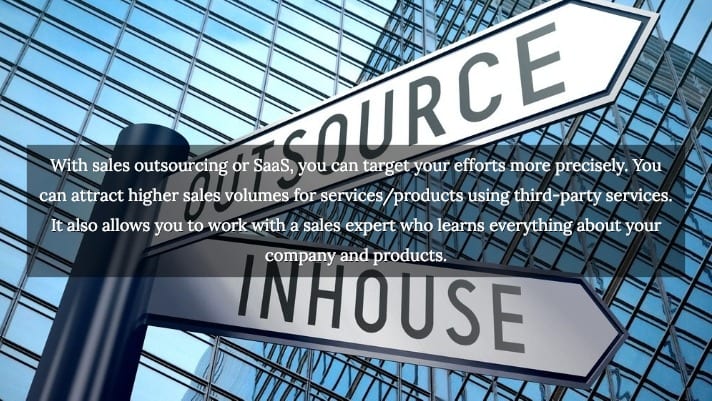 Benefits of Outsourcing Your Sales Department
Of course, the primary benefit is that your business can reduce costs while driving revenue. You can pay a one-time, monthly fee for the service instead of paying wages and benefits to a handful of employees that you hire. Outsourcing your sales department can help boost revenue because the teams are highly proficient, already trained, and know what they're doing. Outsourcing your sales department to experienced sales teams saves time by allowing your team access to competent sales professionals that can have a direct impact on the morale and performance of your in-house solutions.
Outsourcing Can Boost Growth and Stability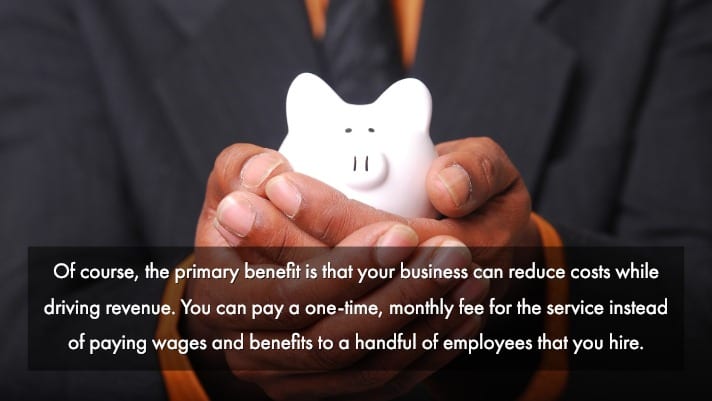 Most small businesses and start-ups may not have the resources or long-term need to train, hire, and maintain a full in-house sales team. Outsourcing your sales department can deliver the much-needed support to your organization when your sales team lacks the sales leadership and strategic plan to achieve it's goals.
Related Reading: Sales Leadership 3.0
Outsourcing your sales department can be just what your organization needs to integrate new sales processes while helping your sales team achieve significant breakthroughs. Learn more about how sales as a service can improve sales performance and increase revenue for your business through The Sales Coaching Institute's Outsourced VP of Sales Program!