Remember These 5 Key Principles of Selling
Whether you're new to the selling world or have been in the industry for years, you will likely come to realize that trends and patterns change all the time. While most sales professionals are content on achieving average or less than average results, most sales professionals want to excel and achieve great things in their professional sales careers. The modern sales landscape has given way to big changes in all aspects of selling. The ability to integrate timeless best practices in sales with modern sales techniques is key to becoming a successful sales professional. To close deals and optimize your sales process, keep these 5 key principles of successful selling in mind when navigating the modern business landscape.
Related Reading: Mastering The Sales Mindset
Customer retention is an essential principle of successful selling in today's modern business landscape. It's easier to keep your current customers happy than it is to find a brand-new customer. Over time, you will inevitably build a healthy client base, but one of the key principles of successful selling and client retention is to go above and beyond for loyal customers that you already do business with.
Keep your loyal customers engaged by offering referral bonuses or rewarding them with discounts to show appreciation. Successful customer retention means showing your customers that you care about their business. Rewarding loyal customers can be a cost-effective way to keep them happy.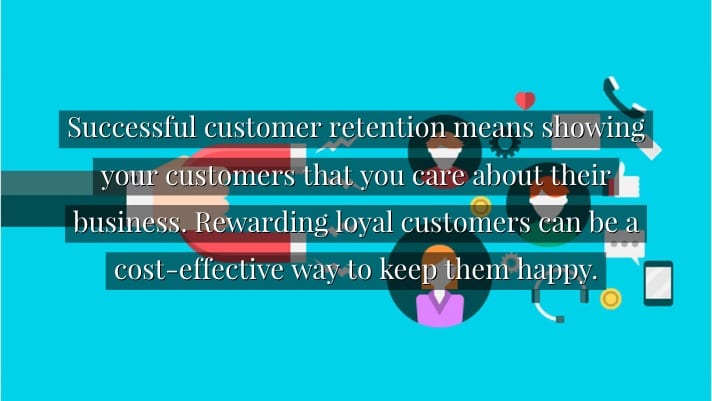 It is no secret that social media is the wave of the future.  Everyone is on one platform or the other, so it makes sense to utilize social media in order to promote your business. Social media is not an option and should be thought of as a key principle of successful selling for any business.  The ultimate goal is to create content that engages the reader, promotes your brand, and possibly lead your customers to buy products through your website.
Successful sales professionals know how to utilize social media to gain insights into leads allowing them to streamline the sales and prospecting process.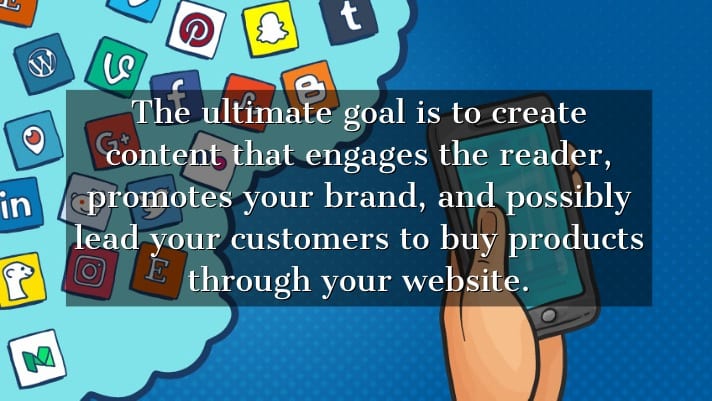 Data
Information is essential regardless of your business. In sales, it can make or break the sale. Without the right information, sales professionals risk looking incompetent to a client and lose credibility. Make sure to go over pertinent details, look at past notes, and actively listen to what your client needs. Learning how to interpret sales figures, invoices, and other important data has never been more accessible and critical to the closing the deal.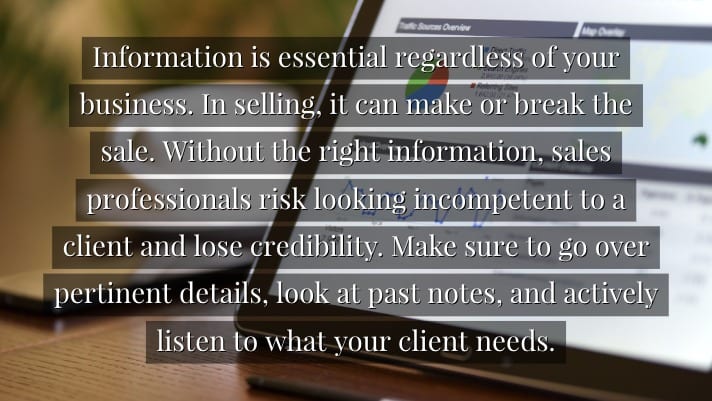 A key principle of successful selling is understanding when and how to supercharge your sales methods with technology. Tools can include CRM solutions, meeting software, electronic signing apps, and much more. Access to customer data is an essential aspect of successful selling. The most successful sales professionals are experts at transforming dense data into tangible and visually appealing representations of the customers problems.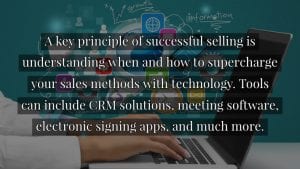 While business culture isn't new, salespeople tend to operate differently than other areas of business. Developing a positive sales culture that motivates and inspires is a key principle of successful selling. Effective sales leadership is essential to any sales operation as sales professional looks to management to set a clear path for success.
A healthy sales culture empowers sales professionals to understand the role they play within the business, their product, and other sales reps within the team. Sales leaders who are dedicated to facilitating a healthy sales culture take great strides nurturing the professional growth of their sales teams by holding active discussions that identify weaknesses and opportunities for strengthening sales skills.